The Ultimate Golf and Luxury Lifestyle Experience.
YACHT GOLF
Yacht Golf brings golfers together for a round of 'traditional golf' followed by a series of golfing challenges taking place off luxury yachts.  Playing from specially built tee-boxes on the swim decks of yachts, golfers are challenged with shots to floating greens as well as unique land based challenges that include watermelons and a lot of sand!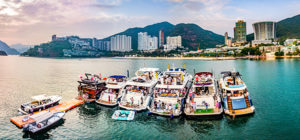 Yacht Golf is not only for golfers – many attend the events are looking to network, relax on luxury yachts, help raise money for charity and enjoy the many different themes and activities going on during the events.
With a plethora of components to the Yacht Golf events, there are multiple activation opportunities for brands and client entertainment across the golf course, yachts, charity dinners and parties.
—

All golf balls used whilst hitting from Yachts into the water are environmentally friendly. We specifically use Albus Golf's EcoBioBalls as the balls are ecological and biodegradable containing fish food in their core.